5 Reasons You Need a Mentor for Entrepreneurial Success
You've probably heard the phrase "It's lonely at the top." I disagree. Your path to the pinnacle of entrepreneurial success is not one you should walk alone.
Behind the success of every great entrepreneur are friends, family members, and mentors. Your family provides the motivation and reasoning for your forward momentum, your friends cheer on your achievements, and your mentor is the person who guides you through the challenges in your business and holds you accountable for your benchmarks and goals.
Every entrepreneur needs a mentor, someone who can share the story of their own success for you to learn from, and who will be your guiding light as you become a better business owner.
Read on to learn why mentors are so important, no matter what industry you're in.
Knowing What It Takes
When you're an entrepreneur, it can be hard to find someone who knows what you're going through. Friends and family might not understand the early mornings and late nights, or the drive to do something really exceptional. Other entrepreneurs know the struggle, and the reward, that comes with being your own boss and setting your own terms.
Entrepreneurs know that it's never "just a job." And often, the only people who understand are other entrepreneurs. A mentor is someone who gets where you're coming from, understands the struggles you're facing, and most importantly, knows how to push past them.
A mentor will be honest with you about where you're at in your journey and what it's going to take to achieve your goals.
Been There, Done That
Mentors aren't just teachers, they are people who have been through exactly what you're going through. They've succeeded and failed and are ready and willing to share the why and how behind their own achievements.
When I mentor business owners, they can be sure I've been down the same road they're traveling. I've failed in spectacular fashion, got back up, and learned from my mistakes. I'm not offering advice I read in a book. I've learned by doing and and it's my job as a mentor to share that wisdom and those experiences with you. In growing my practice from $600,000 annual revenue to $6 million, I've experienced just about everything along the way.
Success isn't something you should keep to yourself. It's something the best entrepreneurs want to share with others, and the best entrepreneurs make the best mentors.
I've been in your shoes. I've done it, and I still do it. And if I can do it, anyone can. But I needed a mentor, and so do you.
Confidence & Clarity
Uncovering your barriers to success is a mentor's key role. Often, your mentor will see things in you that you simply cannot see in yourself. Are you overestimating your aptitude for accounting without realizing it? Perhaps you're underestimating your own ability to train and grow your teams.
People enter into business with a variety of talents—and a variety of biases. A mentor can assess your areas of opportunity and your top traits from an unbiased perspective designed to help you succeed.
You'll gain confidence in the skills you already have and clarity about what you need to work on.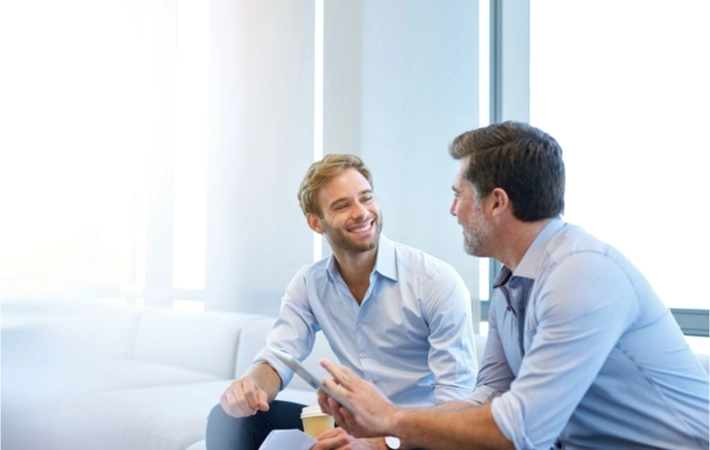 Passion & Vitality
Mentors will help you rediscover why you do what you do in the first place. The best mentors reinvigorate your love of your chosen field.
I have helped many optometrists get back to what they signed up to do—care for patients. Optometrists go to school to become doctors, not business owners. While owning your own optometry practice gives you the tools, and the autonomy, to care for patients your way, the business aspect can drain you of your passion and vitality.
When someone else helps you figure out the details and be a more efficient businessperson, you can get back to being the best in your field, whether it's optometry, dentistry, or something else entirely.
Once you get back to doing what you love, people around you will notice. Your clients will see a change in your demeanor and level of service, your staff will take their cues from your new, positive outlook, and your family will appreciate the time and attention you have for them. When you engage with the right mentor, positive change happens all around.
What Does Mentorship Look Like?
There's no defined formula for mentorship. It's an individual process unique to you. Some mentor-mentee partnerships stick to a schedule and meet on a weekly basis. Others meet monthly or quarterly to go through your goals.
Mentorship can take the form of one-on-one coaching, or even small groups of like-minded individuals who can help you form a network of entrepreneurs, all looking to grow their respective businesses.
Whatever your chosen style of mentorship is, just know that it is important to check in regularly. Mentors hold you accountable and help you reach that next benchmark.
Mentorship for All The Steps in Your Journey
It doesn't matter where your business is currently in terms of size, revenue, or success. You need a mentor in every stage of the process. From the idea phase to getting your business off the ground, to building on some success you've already had, a mentor is an invaluable resource.
After you've reached the perceived top of your game, there's still more to learn. Often, that's when you need mentorship most. When things are going great, it's important not to remain stagnant or sink into complacency. If you're an entrepreneur, you know that there's really no end to the success you want to achieve.
Mentorship helps elite business owners break through plateaus and reach heights they never thought possible. Whatever stage you're at, and wherever you're looking to go, a mentor can help you chart the course. Mentorship is essential for entrepreneurial success.
If you're an entrepreneur operating an optometry clinic and feel like you could use someone with proven experience to assist, please book a complimentary consultation with me. I also offer several styles of coaching depending on your needs. Together, we can take your business to the next level.
_________________________________________________________________________