Financial Planning for Startups
Opening an optometry practice can be an exciting endeavor. There might be many challenges on the way, but you can forge a path to success with the right financial principles and defined core values.
Planning for costs is one of the most crucial steps when opening a practice. A business mentor can offer insight to support your planning process. While there are many costs you'll add to your budget, here are a few considerations to help you get started.
Purchasing vs. Starting Cold
A "cold" start refers to building everything about your practice from the ground up. Alternatively, you might purchase an optometry practice established by someone else—or a similar business with related infrastructure. Of course, there are advantages and disadvantages to both strategies.
Starting from scratch might mean more upfront costs, such as building and equipment costs. Additionally, lacking an established client base can increase how much time (and money) you'll spend attracting patients.
The greatest benefit of a blank slate is the ability to personalize everything. Rather than working around what someone else thought worked, you have the freedom to choose.
Costs for cold start setup can range from $150,000—500,000. There are also additional cost considerations, including labor, insurance, and operating costs.
Building off someone else's framework might mean fewer upfront costs. For example, the practice may already have a built-in clientele. Even if you intend to target a separate patient demographic, it can help if the practice has loyal customers.
When taking over a previously established practice, you're moving into a space already set up for your services—or at least some of your services. However, you may still require some renovations or equipment update costs.
The costs for purchasing an optometry practice and transforming it can depend on whether the practice is large or small, where it's located, and how previous net income compares to loan costs. For example, if the net income allows you to repay your loan quickly, financing operating costs or updates will be more manageable.
Things to Consider
How much your optometry practice will cost depends on multiple factors.
Location
Location, location, location! Where you start your optometrist practice can significantly impact costs. It can also dictate if you're competing against multiple optometry practices or if you're the only game in town.
For example, Chicago, Miami, Los Angeles, San Francisco, and New York rank high among the world's most expensive cities to set up a business. Unsurprisingly, New York ranks as number one.
One 2021 study calculated the least and most expensive US states to run a business, considering the basic costs of utilities, tax policies, legal fees, and average annual wage. According to the study, these are the least expensive US states to start a business:
Texas
Oklahoma
Kentucky
Nevada
Georgia
The most expensive states include:
California
New Jersey
Vermont
District of Columbia
Iowa
Before setting your heart on a location, it's crucial to compare costs. The costs between 2 similar cities or nearby neighborhoods can be remarkably different.
Persona
Your persona or brand is how your patients (and prospective patients) perceive your practice. Establishing expectations, tone, and service priorities give your clients a reason to choose you.
Imagine there are 2 shoe-shine stalls side-by-side at the mall. One vendor has decorated their stall with bright colors and promises stickers for every client. The other vendor has simple decor and promises speedy service. Both vendors can attract customers, but the types of customers will differ.
Your optometry practice might have a fashion focus, offering a broad inventory of high-end fashion-forward brands or a selection of value brands. Or, you may want to emphasize your practice is kid-friendly. Setting your optometry business apart, including how you advertise, brand, or furnish your practice, can significantly impact your costs.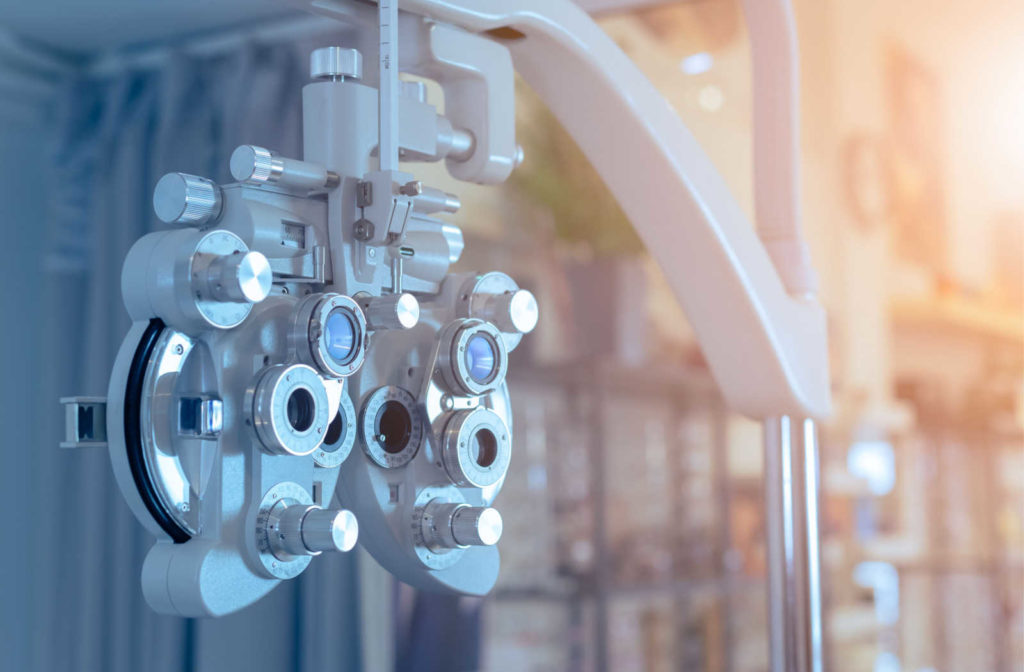 Equipment
Equipment is usually the highest cost after building or rental fees. For a smaller, cold start practice, buying brand-new equipment can cost about $100,000. However, the cost may be more or less depending on the equipment you intend on purchasing, leasing options, sales or discounts from sellers, or whether you buy used equipment.
When you purchase an existing practice, you may still need equipment. For example, you may need equipment or tools the previous owner did not have. Therefore, evaluating the practice's equipment is crucial rather than risking surprises. That way, you know whether the equipment is still in good condition, meets your needs, or should be replaced.
Furnishings & Miscellaneous
While equipment and location are obvious necessities, remember all the furniture and furnishings you need to run your practice—and make it comfortable. Examples include:
Cabinets & storage
Computers & monitors
Office chairs & stools
Office supplies
Kitchen equipment (staff room)
Lighting (including lamps & overhead lights)
Phones & printers
Security system (including cameras)
Waiting room chairs & decor
Depending on how you add your personal touch, furniture, furnishings, and miscellaneous supplies can add up to $80,000.
Insurance, Overheads, & Legal Assistance
While not as exciting as selecting equipment or decor for your practice, running your practice and protecting your assets is just as crucial.
Your budget for insurance and licensing will depend on your location and the size of your business. Likewise, utilities and additional operating costs can depend on location, practice size, and offered services.
Generally, insurance, overheads, and legal services will be significantly less expensive than equipment. Still, you should err on the side of caution, as it can help protect you if there are any unexpected costs. For example, your first year's startup expenses may include at least $1,000 for legal services, $2,000–5,000 for insurance and licenses, and $48,000 for utilities and rent.
Planning for Success
Estimating costs is only the beginning of an exciting journey into private practice. Building a concrete business plan for your practice is crucial for maintaining and growing a practice you can be proud of. When you're starting out, it can be challenging to prepare for a world of unknowns. The experience of a business mentor can give your venture a leg up.
Find out how the experience of a business mentor can give your venture a leg up. Book an appointment with Dr. Scott Colonna today.