Quality service is pivotal to setting your optometry business apart, but you need the tools to make it happen. Therefore, instruments and tools should be considered when determining the cost of opening your practice.
Most patients won't know the difference between instrument brands or types. But they will recognize the quality of service your tools of the trade support. Therefore, determining your must-have instruments is one of the first steps.
Exam Lane
Your exam lane is an excellent example of want versus need. Of course, you need an exam lane, but there are variations determining quality. You'll also need to know how many exam lanes your practice requires (or has space for).
Exam lanes can be added as a set or piecemeal. However, a set can help when you have limited space or are looking for specific features.
A standard exam lane set may include the following:
Chart system
Exam chair
Phoropter
A slit lamp
Stand
A basic chair may have manual adjustments for leaning forward/back but electric adjustments for up/down. An upgraded chair may have more electric functions or more comfortable cushioning.
Another must for your first exam lane is wheelchair accessibility. Complying with the Americans with Disabilities Act (ADA) may affect the type of chair or package you purchase. Or, you may invest in a chair mover or glide separately.
When you start a new practice or move into a new building, an ADA barrier removal evaluation can help you plan for any necessary changes. In addition to layout or height adjustments, some equipment or instruments have features to improve accessibility.
After you've selected an exam chair for the patient, remember to add a stool for yourself and at least one chair for a guest. Children or older adults may have a companion along for their visit.
Top Instruments
Your must-have instruments can vary depending on the services you offer.
Vision therapy is one example. You may offer some vision therapy services or aim to be the vision therapy destination. Whether you need essential tools or the latest technology depends on your goals (and finances).
Still, there are standard must-haves instruments every practice needs, whether you're a proud small-town practice or beginning an empire.
Eye Chart
The Snellen eye chart remains the most popular choice, but there are alternatives for dynamic acuity testing. Still, an eye chart is a must-have!
Corneal Topographer
An instrument on the fine line between nice-to-have and must-have, corneal topography is necessary for certain services. For example, when contact lens fittings, managing corneal conditions, and refractive surgery co-management are a practice focus, it's a must-have.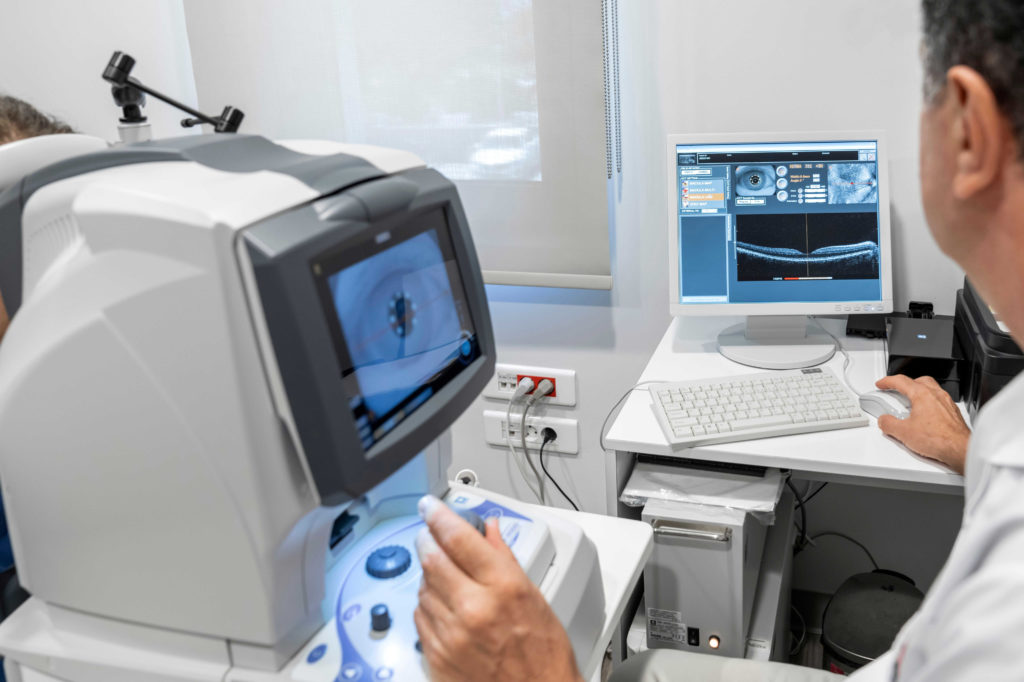 Ophthalmoscope
The little handheld instrument with a big impact. There are a few approaches, depending on the type of ophthalmoscopy you invest in (direct or indirect) and the device you use. You may receive a slit lamp as part of an exam lane set or purchase an instrument separately. Either way, an ophthalmoscope is an essential diagnostic tool.
Retinal Camera
Here we get into variations again. Many instruments are available on the market, ranging in features and price. When selecting a retinal camera system, you'll need to dive deeply into how brands or types meet your service requirements.
A practice branding itself as invested in diagnostic technology will have different standards than a practice focused on contact lenses. While retinal imaging is a basic must-have, how you approach retinal camera technology can vary on other service technology with a higher priority.
Retinoscope
A retinoscope is a fundamental tool for determining refractive errors. The test requires minimal cooperation from the patient, making it essential for various patients, including children and patients with disabilities.
Tonometer
Variations is the word of the day. Tonometry is a must-have, even when glaucoma or diabetic eye disease management isn't your highest priority service. But will you offer applanation, indentation, or rebound tonometry? Contact or noncontact tonometry—or both?
Think about the patients most likely to come into your practice (or the patients you want to attract). For example, access to more than one tonometry type (contact and noncontact) may benefit your practice. Or, focusing on your preferred diagnostic method may be better for your service standards.
Vision Screener
A vision screener can help identify visual problems quickly, which can be handy for fidgety children. While a vision screening doesn't replace an eye exam, it's an accessible alternative when patients are wary about dilation.
Visual Field Testing
A perimeter or visual field analyzer is a necessary instrument for practices focused on glaucoma diagnosis. It's also an instrument patients appreciate and trust.
A Non-Optical Must-Have
Optical instruments are crucial must-haves in offering optical services. Still, office instruments are the bridge your patients (or staff) cross to get to you. Therefore, an Electronic Medical Record (EMR) System—and a computer to access the system or show imaging to patients—is a priority.
An EMR system that integrates with equipment and practice software might have been nice-to-have years ago. But it's a highly demanded technology for modern practices.
Planning Your Must-Haves
Your list of must-haves can grow exponentially when dreaming of opening a practice. The nice-to-haves or instruments-for-later-investments can take root, making it challenging to weed out what you want versus what you really need.
We can help you plan for your priorities. Dr. Scott Colonna is committed to working directly with business owners at all levels to help them bring those dreams to life.
Book an appointment with our team today to plan your must-haves and make your goals a reality.