Providing great service may seem obvious, but it's important to check-in and be honest with yourself about the effectiveness of the service you provide and if it helps you stand out amongst your competitors.
The type of service you provide stems from your business's core values and how you define who you are. Ask yourself what do you want to accomplish? And how can you get there?
There's no magic solution when it comes to growing your business—it takes dedicated and continual work from the team as a whole.
Here, we'll discuss ways to begin upping the quality of service your practice provides and ways to begin implementing them. Become a stronger leader and business owner today.
The Importance of Providing High-Quality Service
No one wants to feel like just another number.
Think of when you visit a larger corporation such as a fast-food joint. You shuffle through the line, get a number, receive your product, then leave. As efficient as this method is, it doesn't provide much value or connection to the customer.
A fantastic product can hold little value within a company without the quality of service to back it up. Patients shouldn't just be shuttled through the process of an exam but instead guided and educated along the way with opportunities to ask questions and discuss concerns.
So how can we define great customer service? To put it in one sentence, you want to follow best practices that put the time and needs of the patient first. When your focus is on each patient's individual needs, your service can begin to go above and beyond.
How Your Service Can Go Above & Beyond
Saying you strive to provide a service that goes above and beyond is only words until you put it into action. But how do you begin providing high-quality service that will set you apart? Here are 4 ways you can start implementing it within your business.
Personalize the Eye Exam Experience
Personalizing eye exams to each individual is not only beneficial to the patient experience, but it contributes to the growth of your business.
Taking the time to get to know your patients, actively listen to their questions and concerns, and communicate openly and honestly builds trust. Conversations become more meaningful, and you're able to educate your patients on the options available to meet their specific needs.
When patients feel heard, and their best interest is in mind, they are more likely to remain loyal and be returning customers. Something as simple as using their name when you address them can go a long way.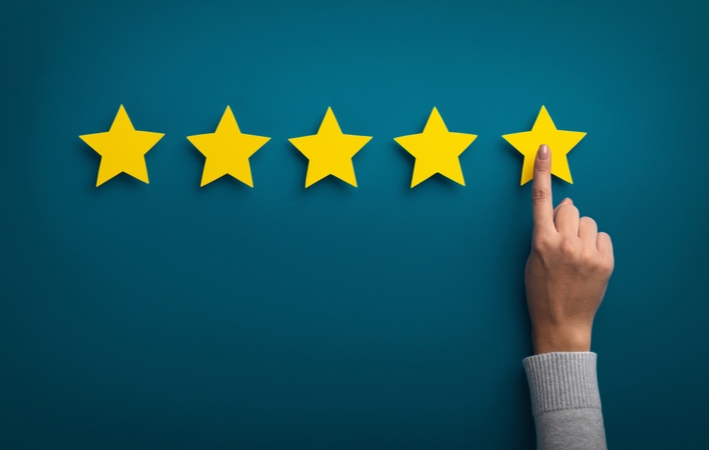 Connect with Patients
Connecting with your patients during their eye exams is essential, but it's also beneficial to remain connected outside of the office. This can be easily done through social media. Social media promotes your brand, and consistent posting can help your brand stay top of mind.
You can also communicate with your patients through social media efficiently and effectively. Remember that responding in a timely manner helps ensure a patient feels valued and not forgotten about.
Another way to connect with your patients is to look for opportunities to contribute to the community. Not only does this allow you to get to know your patients and potential patients in the area, but it markets your business at the same time.
Investing in Technology
When you invest in technology, you can further expand your services to meet the needs of your patients. Keeping up-to-date with innovative technology and techniques can help streamline your process, allowing you to spend more time getting to know the needs of each patient.
Investing in technology is investing in your practice and in your patients.
Cultivating a Team with the Same Outlook
Providing a high standard of service isn't a responsibility that falls on one person. For your service to go from good to great, there has to be buy-in from the team as a whole. There are multiple interactions a patient will go through during their time at your practice, and it's important for the standard of service to remain consistent.
Outlining expectations and defining your core values as a business can help align the goals and outlook with each team member. When everyone is working towards the same goal and, more importantly, understands what that goal is, your service becomes uniform across the board.
Spending time training your team to actively listen, follow-through, and follow up with patients helps make them feel like their health is a top priority and they aren't just pressured into spending money.
Achieving a good first impression, as well as a lasting impression, creates a memorable experience for your patients they'll want to talk about. Great service translates into good reviews and marketing through word of mouth, both effective ways to grow your business and set you apart from the competition.
Stand Out Amongst the Crowd
High-quality service isn't something that should be overlooked. It's a part of the business that can constantly improve and evolve. Seeking ways to enhance the service you provide can result in business growth and substantial payoffs.
Let's work together to lay out the foundation of how to reach your business goals today! Book a consultation and discover the possibilities.